The second season of Kingdom has been confirmed by Netflix and it is just around the corner! The zombie K-drama was a smash hit when it came out and expectations are high from the second season as well. Here's everything you need to know about the upcoming season that'll release this month!
Kingdom stars Ju Ji Hoon, Ryu Seung Ryong, Bae Doona, and Kim Sung Kyu in the main roles. Kingdom is Netflix's first original Korean series and the first season premiered on January 25, 2019. It is adapted from "The Kingdom of the Gods" webtoon written by Kim Eun hee and drawn by Yang Kyung Il.
The political period supernatural thriller K-drama is directed by Kim Seong Hun and written by Kim Eun Hee, who also authored the webtoon this drama is based off of.
The story is set in Korea's Joseon period, where the Crown Prince Lee Chang becomes involved in a coup/political conspiracy and is forced to leave the capital. His father is sick, and while the entire kingdom thinks he's dead, he is actually getting secret treatment from a doctor. Lee Chang learns that the doctor is responsible for creating a mysterious plague that makes dead people rise into flesh-eating zombies.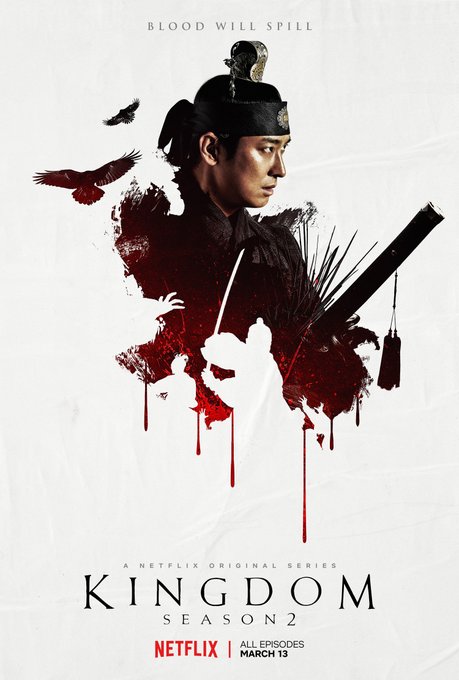 When is Kingdom Season 2 update?
Kingdom season 2 has been confirmed by Netflix to release on the streaming platform on Friday, March 13, 2020. Netflix made the announcement on its various social media handles last month.
Only Kingdom can make me this excited about zombies. In case I haven't said it enough: S2 ON MARCH 13!! pic.twitter.com/kV0o6HbSYB

— Netflix Philippines (@Netflix_PH) March 3, 2020
Who is in Kingdom Season 2 Cast?
These are the cast members that will be seen in the renewal of Kingdom:
Ju Ji Hoon as Crown Prince Chang
Bae Doo Na as Seo Bi
Ryoo Seung Ryong as Cho
Kim Hye Jun as Queen Cho
Kim Sang Ho as Moo Young
Kim Sung Kyu as Young Shin
Heo Jun Ho as An Hyun
Jun Suk Ho as Jo Beom Pal
Park Byung Eun and Kim Tae Hoon will be joining the cast for the second season. Jun Ji Hyun will reportedly join the cast at the end of season 2 and will be playing an important role in the later season 3 renewal. This will be her official return to acting after 4 years of hiatus.
Jun Ji Hyun in talks to return to the small-screen as female lead of new drama by 'Kingdom' scriptwriterhttps://t.co/jjYexhey2C pic.twitter.com/9zN48JEe8c

— allkpop (@allkpop) March 3, 2020
Kingdom Plot: What we know
The story of 'Kingdom' takes in place in Hanyang (present-day Seoul), Korea, during the Joseon period. The story takes place after the Japanese invasions of Korea (1592-1598) where Crown Prince Lee Chang (played by Ju Ji Hoon) is caught between a political conspiracy where he is forced to go on a mission to find out the cause behind the mysterious flesh-eating plague that has affected people in the southern provinces of the kingdom. This all started when rumors started circulating in the kingdom that the king of Joseon has passed away and that the Crown Prince should be crowned immediately. These rumors are false as the king is alive but sickly inside the palace and is being secretly treated for 10 days. The Crown Prince himself is not allowed to see the king until he sneaks at night to see his father become a monster.
The Crown Prince along with physician Seo Bi (played by Bae Doo Na), Yeong Shin (played by Kim Sung Kyu) and his guard Moo Young (played by Kim Sang Ho) embark on a journey to prevent the spread of the zombie-making plague to the capital.