Spring has arrived, which means many of us would want to just laze around all day leisurely and do nothing. For times like these, watching K-dramas makes for the best use of this time. We are talking about K-dramas that are lighthearted, fun, and easy to watch without worrying about complex stories and characters. So here we are going to take a look at some K-dramas that are for the most part wholesome, and have healing slice of life elements that are perfect to binge watch for the spring season. Hopefully, you can find a drama (or two!) that interest you from this list so you can loaf around this spring!
Splash Splash Love (2015)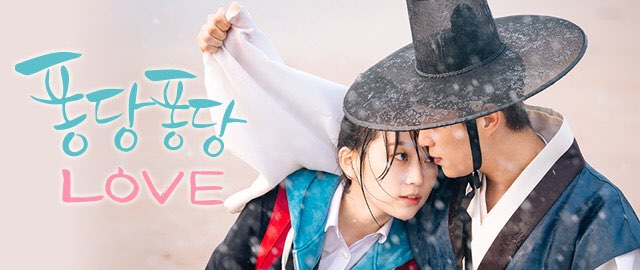 Splash Splash Love sees senior high school student Jang Dan Bi (played by Kim Seul Gi), who has a special ability which enables her to teleport to any location when it's raining. She's appearing for the CSAT, which is a Korean university test. She has an irrational fear of mathematics and is unable to deal with the pressure. On her way to the test, she decides to play in a playground while it's raining. She ends up being transported through a puddle which turns out to be a time portal and lands her in the Joseon era. There she meets the young King Lee Do (played by Yoon Doo Joon) where she gets mistaken for a eunuch and an entire adventure begins.
Splash Splash Love is on number one on the list because it's a mini-drama series that's easily digestible. It only has two episodes and it takes full advantage of that. The story is fulfilling and very heartwarmingly cute. The drama manages to flesh out and develop the characters in a span of only two episodes. The only thing that you wouldn't like about this show is its short runtime, wish there was more of it!
Clean with Passion for Now (2018)
Clean with Passion for Now stars Yoon Kyun Sang and Kim Yoo Jung playing an adorable couple who fall in love for the first time. Yoon Kyung Sang plays Jang Sun Gyeol, who has mysophobia (fear of germs) and is the CEO of a cleaning company. He comes across Gil Oh Sol (played by Kim Yoo Jung) who does not mind getting dirty. She doesn't mind being a little unkempt. While being polar opposites and initially forming a love-hate relationship, the two eventually bond and get close to each other which blossoms in love.
The drama is perfect if you want something lighthearted and fun to watch. The K-drama takes on mental health issues with Sun Gyeol's obsessive-compulsive disorder (OCD) which turns into his fear of germs. The show explores how he deals with the issue and how much he has to suffer from it in his daily life. While the subject seems to be serious, and since this list is talking about lighthearted dramas only, there's tons of humor and fluff that Clean With Passion for Now has to offer. The chemistry between the two leads gets adorable once they both start to get closer, with plenty of laughs to be had.
Weightlifting Fairy Kim Bok Joo (2016)
Weightlifting Fairy Kim Bok Joo stars Lee Sung Kyung in the lead role as Kim Bok Joo, a naturally gifted weightlifter who is a big softy on the inside. The coming-of-age sports drama is inspired by the life of Olympic gold-medalist Jang Mi Ran. Bok Joo's love interest is Jung Joon Hyung (played by Nam Joo Hyuk) who is a collegiate swimmer. After a fated encounter, they realize that they have met each other in their childhood when Kim Bok Joo saved Jung Joon Hyung's life by catching him when he was falling to the ground. They become friends and their relationship begins.
The show has a very cheerful and sweet vibe throughout. It doesn't focus only on the good parts, as the show doesn't fail to highlight the struggles faced by young people. The sincere representation of the search of meaning only adds to the already engaging and cute love story with excellent performances by the cast.
My Father is Strange (2017) 
Consisting of a packed cast along with a good 52 episodes to keep you company all spring, this family drama will keep you hooked because of its engaging and well-paced writing. The show is a My Father is Strange is about a family consisting of a father, his wife, three daughters, and one son. Hijinks ensue when one day a man who is an idol-singer turned actor suddenly arrives at their house and claims that he is the son of the family.
The drama has very enjoyable characters; from the strong female lead Hye Young (played by Lee Yoo Ri) to the love between Mi Young (Jung So Min) and Joong Hee (Lee Joon). The show beautifully combines the best parts of romance and family dramas. My Father is Strange is a very comfy watch that shows the loving environment and warmth of a happy family. The drama ends up on a happy note and is overall a great wholesome watch.
Bride of the Century (2014)
Bride of the Century or Hundred Year Bride is a romance and fantasy drama starring singer-turned-actor Lee Hong Ki and newcomer at the time, Yang Jin Sung. The story revolves around the largest conglomerate in South Korea, the Taeyang Corporation. The family running Taeyang has been under a curse for a century, which began when the first bride of the family's eldest son died on the wedding night.
The cute melodrama is lighthearted but you might want to just turn off your brain and enjoy it for what it is. The drama is ample with cliches and tropes and while that may be a turn off for some, they could be fun if they're done right – which Bride of the Century excels at. Lee Hong Ki and Yang Jin Sung make a very adorable couple, and the entire cast of characters has a sweet, childlike innocence to it.
Plus Nine Boys (2014)
Plus Nine Boys is a romantic comedy series starring Kim Young Kwang, Yook Sung Jae, Oh Jung Se, and Choi Ro Woon. The series is about four guys – ranging from 39 to 9 years in age – who deal with different obstacles in their love and work life during the end of a decade in their lives. There's a common belief in Korea that anything that has to do with the number 9 is bad luck, and our characters in the story, who are 9 years old, 19 years old, 29 years old and 39 years old, believe they are cursed to be unlucky.
The emotionally engaging drama perfectly showcases the characters going through different situations in their everyday, ordinary lives without being too overdone on the emotional aspects or too sweet and cheesy. The slice-of-life comedy show features characters that feel like real people with believable ambitions and goals. Plus Nine Boys is highly relatable for all – from seeing a 39-year-old production director of a music program struggle in his work life to witnessing a 19-year-old failing spectacularly in a judo scholarship match and later trying his best to win over his crush's heart. There's something for everyone.
Second 20s (2015)
Poster for "Second 20s". Source: tvN
Second 20s or Twenty Again revolves around Ha No Ra (played by Choi Ji Woo), a 38-year-old wife and mother of one son. She dreamt of becoming a dancer when she was in high school, but she met the love of her life Kim Woo Chul (played by Choi Won Young) at the tender age of 19, which eventually lead to her quitting school and getting married. She gave up on her dreams and strived to be a good wife and mother to her son Min Soo (played by Kim Min Soo). However, things didn't go as good as she expected as she is on the brink of divorce and suffering from terminal pancreatic cancer. She decides to attend a college, and funnily enough, gets enrolled in her son's class. Things get awkward for his son and his girlfriend, as well as for No Ra as her husband actually becomes a psychology professor in the same college, and as if that wasn't enough, her high school crush turns out to be a theater arts professor in the college.
Seconds 20s takes its time with the plot and character development. The slow approach to progressing the story forward is very underrated and rarely seen in K-dramas. It offers such a different experience than the rest of the dramas that rush into their stories and hastily handle the plot developments. Unlike the endless sea of K-dramas featuring teenagers and young adults, the leads in this show are in their late 30s, which is a fresh and welcome change. While the first few episodes take some time to get used to – as they are mostly setting things up – it's an investment that'll be rewarded well, as you would be craving for more as you watch No Ra's story unfold slowly.
Confession Couple (2017)
Confession Couple, also known as Go Back Couple is a romantic comedy drama starring Son Ho Jun and Jang Na Ra playing the roles of Choi Ban Do and Ma Jin Joo respectively. Both of them are 38 years old and married with a son. The K-drama shows them struggling with their daily lives that end up with them being worn out. Choi Ban Do is a pharmaceutical salesman who begs clients to buy the products he's selling. He's also cheating on his wife and has to help a hospital director so he can keep his mouth shut regarding the matter. Meanwhile, Ma Jin Joo is a homemaker wife who feels lonely with her life as her husband doesn't pay attention to her. One day, the two wake up to find themselves in their 20-year-old self as university students. Not knowing how long they are going to be like this, they decide to make the most out of it and this time they make choices that they wish they had made when they were younger.
While not boasting a huge production budget, Confession Couple manages to be entertaining enough if you can manage to get past the marriage-at-breaking-point set up in the beginning. The theme of getting a second chance to relive life as a 20-year-old is very interesting and fresh, as we have already had too many time travel K-dramas already. Yes, they do go back in time, but as their own self. They are the only existing versions of themselves, as there are no younger versions of them around. The show poses a very thought-provoking question about whether you would make the same choices all over again if you were given a second chance. The show is full of heart with the main cast having a lot of chemistry, making it an ideal candidate to binge-watch in spring.
I'm Not a Robot (2017) 
Kim Min Kyu (played by Yoo Seung Ho) is the handsome and smart shareholder of a finance company, who has to live a hermit's life due to his condition. He has an allergy to human contact – he develops extreme rashes which spread throughout his body if he makes skin contact. He orders a robot from a developer, Baek Gyun (played by Uhm Ki Joon) who is world-renowned for his androids. He creates a robot called Aji 3, which looks exactly like his ex-girlfriend Ji A (Chae Soo Bin). Unfortunately, though, Aji 3 breaks down and Baek Gyun has to get the robot to Min Kyu as he's promised more investment money if he likes his creation. He convinces Ji A to go to Min Kyu's and pretend to be Aji 3. Jia, who is in a tough financial spot, takes up on her ex's offer.
While the trend of robot love story K-dramas has almost died out now, it was a thing and it had its own problems. The fact that a romantic relationship between a robot and a human is the main theme of many a K-drama is a turn-off as it's already weird to imagine how a relationship would like that work out. Thankfully, I'm Not a Robot doesn't have to deal with these issues as the relationship shown is between two human beings, who look very cute together. This is a case where the cast made the show, meaning that it's worth watching just for the lead actors' performance. Yoo Seung Ho and Chae Soo Bin are very likable, and they work really well together. While the show's writing is not without its flaws, I would say go for it, it would make for a great watch with its lead duo's heartwarming chemistry.