It looks like 2020 will be a great year for a K-drama – we are three months into the year and we already have some great shows to watch. The winter and spring season bought us a great range of shows – ranging from romantic comedies to thrillers and drama – there's something for everyone.
While Crash Landing on You is undoubtedly a show that you should watch from late 2019, there are quite a lot of shows already that should be on your watching list. Shows like Itaewon Class and Kingdom are already contenders for the best K-drama of the year, and we have already just begun! In this list, we'll take you through new K-dramas that you should get on watching right now in 2020.
Itaewon Class
Main cast: Park Seo Joon, Kwon Nara
Genre: Drama, romance
Episodes: 16
Itaewon Class is an immensely popular K-drama on Netflix that just finished airing in late March. It reached some of the highest ratings in Korea right now among current shows. It stars Park Seo Joon (Parasite) and Kwon Nara (Doctor Prisoner).
Itaewon Class is about the Itaewon neighborhood in Seoul. It tells the story of Park Sae Yo Ri, who wants to open a pub in this neighborhood even though he suffers from a lot of hardships in his life. He faces a lot of struggles on his journey – from his father dying to getting jailed while in middle school – he makes it his life's goal to open a pub in this coveted neighborhood and keep it going. Along the way, he makes a lot of friends with similar people like him who have a lot of dreams and want to make it big despite struggling in life.
Kingdom Season 2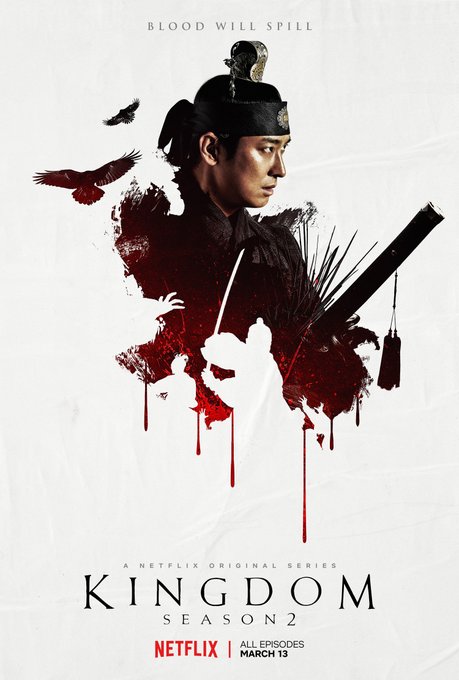 Main cast: Ju Ji Hoon, Ryu Seung Ryong, Bae Doona, and Kim Sung Kyu
Genre: Action, drama, horror
Episodes: 6
The second season of the smash-hit zombie K-drama Kingdom dropped on Netflix in March and it has been very well received by the show's fans. The political period supernatural thriller K-drama's story is set in Korea's Joseon period, where the Crown Prince Lee Chang becomes involved in a coup/political conspiracy and is forced to leave the capital. His father is sick, and while the entire kingdom thinks he's dead, he is actually getting secret treatment from a doctor. Lee Chang learns that the doctor is responsible for creating a mysterious plague that makes dead people rise into flesh-eating zombies.
Kingdom features Ju Ji Hoon, Ryu Seung Ryong, Bae Doona, and Kim Sung Kyu in the leading roles. The second season's end saw Jun Ji Hyun join the cast for an apparently bigger role in the third season.
Hi Bye, Mama!
Main cast: Kim Tae Hee, Lee Kyu Hyung, and Go Bo Gyul
Genre: Drama, fantasy
Episodes: 16
Starring one of the most popular actresses in Hallyu, Kim Tae Hee, Hi Bye, Mama! is her comeback to the small screen after appearing in Yong Pal back in 2015.
Hi Bye, Mama is about a wife and mom of our story, Cha Yoo Ri, who passed five years ago. She, however, survives as a ghost in this world and there's one thing that she wants – to be back with her husband Jo Kang Hwa and their daughter. The husband's personality sees a change from his once caring self after Cha Yoo Ri's death. He works as a thoracic surgeon and worked as a single father for three years. He finally moves on from his wife's death and marries Oh Min Jung (played by Go Bo Gyeol). Cha Yoo Ri finally gets the chance to be back with her husband and daughter when she participates in a reincarnation project which grants her the ability to return back to life as a human.
The show is very cute but also heartbreaking, it's best to keep tissues handy as there will be a lot of crying.
Hyena
Main cast: Kim Hyre Soo and Ju ji Hoon
Genre: Crime, drama
Episodes: 16
Hyena tells the story of two top lawyers who work for the elite of society. Yoon Hee Jae is a successful lawyer who has won every case he has worked on. He is a self-centered person, the opposite of humble. He is exceptional at using his skills and knowledge to maneuver around the law to win cases for his clients. Struggling lawyer Jung Geum Ja is in desperation to win a case, and is not scared to cross the boundaries of what's lawful and what's considered ethical. She chases after success and money and will do anything to succeed. Fate brings the two together, as they both fight against each other in a case. Geum Ja studies Hee Jee carefully and tries to hurt his ego to throw him off.
This really troubles Hee Jee, but he still can't stop thinking about her, even though he got taken advantage of. After entering his life, Geum Ja has changed the perfectionist Hee Jee's world.
The title "Hyena" is apt as the two titular characters are nothing but hyenas when it comes to doing anything to claw their way out to get what they want.
The Game: Towards Zero
Main cast: Ok Taecyeon, Lee Yeon Hee, and Lim Ju Hwan
Genre: Mystery, crime
Episodes: 32
The Game: Towards Zero is about a man who possesses the ability to tell the moment of a person's death, by looking in said person's eyes.
When Tae Pyung looks someone in the eye, he can see a vision of the exact moment of the person's death. He can even see his own death's vision when he looks at his reflection. Seo Joon Young is a detective who works at the Violent Crimes Department of the Central Police Station. Tae Pyung partners with her to solve a string of serial murders. Tae Pyung realizes that he can't see her death's visions when he looks into her eyes. Joon Young has kept to herself and never relied on anyone after her father died since she was little. Despite this, she wants to help Tae Pyung and heal his wounds as she learns more about her.
Tae Pyung is played by Taecyeon of the popular K-pop boy group 2PM.
Memorist
Main cast: Yoo Seung Ho, Lee Se Young, and Jo Sung Ha
Genre: Crime, mystery, fantasy
Episodes: 16
Memorist is about a detective who has supernatural powers. He goes after a serial killer but loses his memories in an incident. The detective Dong Baek teams up with a genius criminal profiler named Han Sun Mi to catch an evil serial killer on the loose. Dong Baek's power is known to everyone, for he has never hidden his abilities from the public, and uses thee powers for justice. He does not want to misuse his power, and even rejects offers from nations who want to use his power for their own benefit. The police department constantly monitors his activities 24 hours a day because of his reckless actions. Han Sun Mi is a genius criminal profiler who becomes the senior superintendent at the age of 30.
Memorist is different from most other superhero stories in that Dong Baek here has made his powers publicly known to everyone without hiding his identity. The drama is based on an (untranslated) webtoon of the same name.
Eccentric! Chef Moon
Main cast: Eric Mun, Go Won Hee
Genre: Drama, romantic comedy
Episodes: 16
Eccentric! Chef Moon is about Moon Seung Mo, the only heir of the 80-year old traditional Pungcheonok pork soup restaurant. His restaurant is known for using organic ingredients instead of processed food made with MSG and such stuff in most restaurants. Moon decides to move to the quiet and tiny Seoha Village after his parents die in a fire. Yoo Yoo Jin is a renowned fashion designer until she gets into an accident and loses her memory. She becomes a different person due to this and decides to move to Seoha Village too just like Moon. She meets Chef Moon there and the two begin to see each other and even decide to move in together.
The K-drama is full of cute, funny and lovable moments. The lead Eric Mun is a member of the legendary K-pop boy group Shinhwa.
Find Me in Your Memory
Main cast: Kim Dong Wook and Moon Ga Young
Genre: Drama, fantasy
Episodes: 32
Find Me in Your Memory is a romance drama about a man suffering from an unusual condition. He is suffering from hyperthymesia, a condition in which a person possesses a superior autobiographical memory, and can recall pretty much anything that happened in their life. Lee Jung Hoon works as a news anchor of a show that gets the highest ratings in Korea. Of course, this condition helps him a lot in his job. On the other hand, Yeo Ha Jin is a 30-year-old woman who is a rising social media influencer, model, and actress with six years of experience in the entertainment industry. She does not remember important parts of her past. She has forgotten these moments as a defense mechanism. These two peculiar individuals come together in Find Me in Your Memory as we see them ease each other's pain.
Find Me in Your Memory shows the story of two people who are emotionally scarred due to their conditions, one because of his ability to recall everything about his life, and the other who has no recollection of her past.
Rugal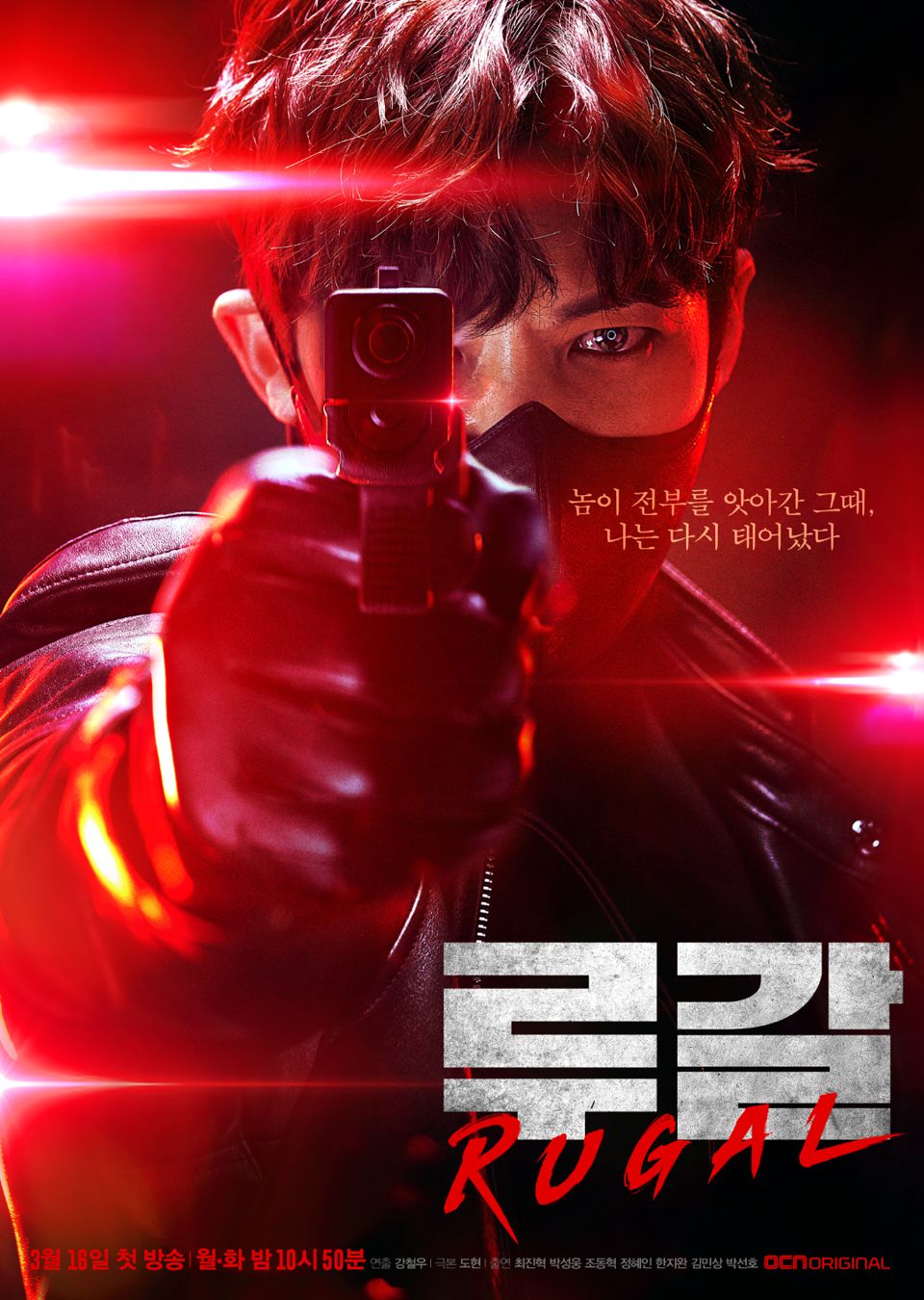 Main cast: Choi Jin Hyuk, Park Sung Woon, and Jo Dong Hyuk
Genre: Action, thriller, crime, drama, sci-fi
Episodes: 16
The story of Rugal takes place with honest and respectable police detective Kang Ki Bum's (played by Choi Jin Hyuk) loss of his vision and his wife by the hands of the special organization called Argos. This happened when he was assigned to investigate Argos. One day, when coming home from work, he finds several masked men murdering his wife and child. They beat him up too and cut out both of his eyeballs.
Kang Ki Bum is now on the run because, after the incident, he wakes up in a hospital room and finds out that he is framed for murder. The National Intelligence Service contacts him and informs him that he is selected to be a part of a special team. He gets recruited by Rugal, which is an army of bio-engineered soldiers whose sole purpose is to fight against Argos and stop their terror attacks in South Korea. Rugal grants Kang Ki Bum cybernetic eyes which grant him the ability to see again.
The drama has a very intense and exciting-sounding plot and it is one of the most anticipated K-dramas from this year.
Hospital Playlist
Main cast: Jo Jung Suk, Yoo Yeon Seok, Jung Kyung Ho, Kim Dae Myung, and Jeon Mi Do
Genre: Medical, drama
Episodes: 8
The show revolves around five doctors who are lifelong friends from med school, which they met twenty years ago in 1999. They work in the same hospital too, and while they all love everything that has to do with being a doctor, they have another passion – music. The quintet goes to form a band together whilst juggling their lives as a doctor.
The drama is directed by Shin Won Ho and written by Lee Woo Jung who has previously worked on hits such as "Reply 1997," "Reply 1994," "Reply 1988," and "Prison Playbook."